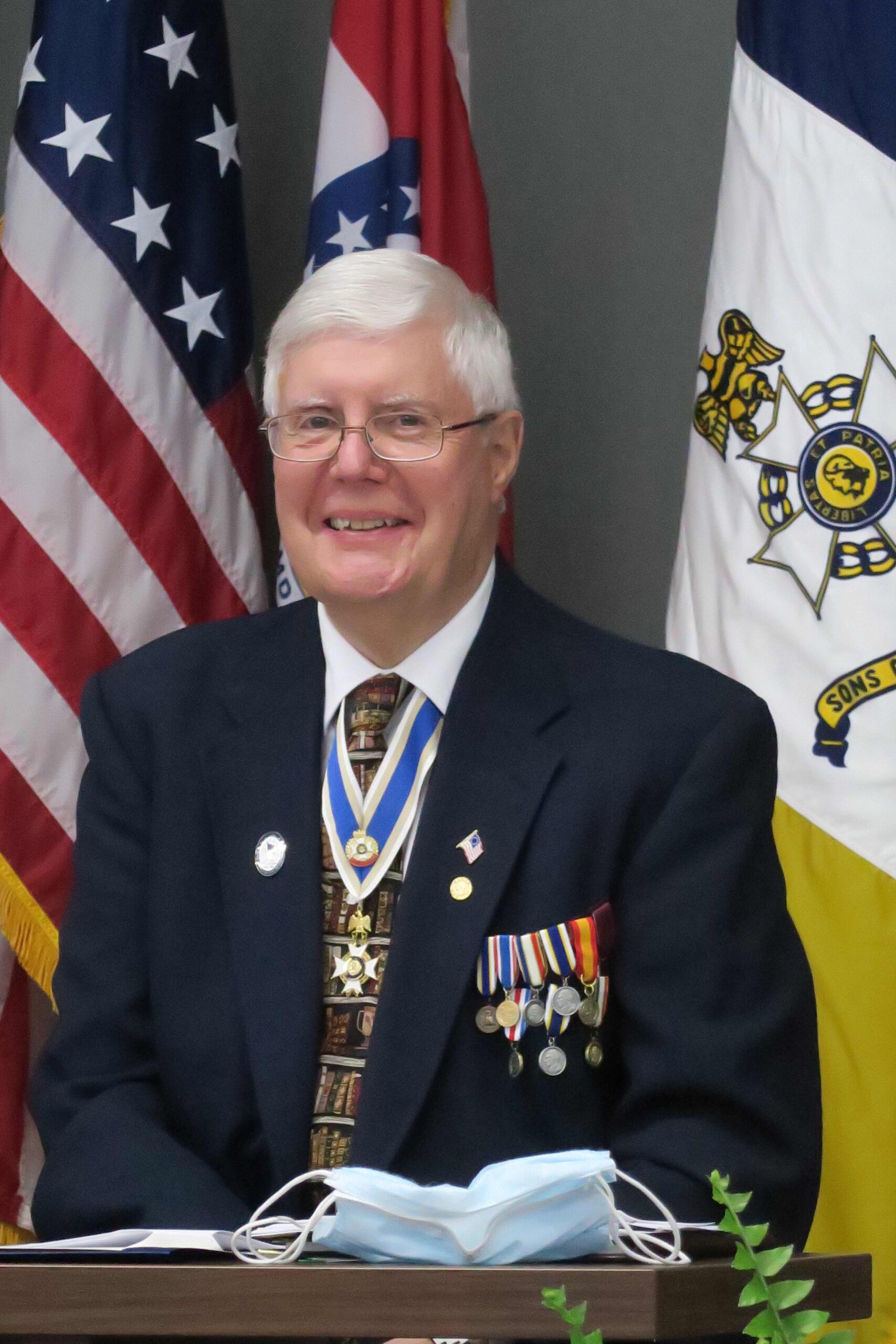 President George Swales
Greetings,
What a year this past year has been. The rapid spread of the COVID-19 Virus resulted in cancellation of many Missouri SAR in-person events. Through it all, we have not only survived, but have also thrived. We continue to adapt, be flexible, and prepared in a changing environment. Safety of our membership is of paramount importance.
Our Color Guard are widely recognized, greatly appreciated in the community, and a direct reflection on the Sons of the American Revolution. Color Guard activities are highly anticipated by the public. Law Enforcement, Fire Service, EMT, Heroism and Lifesaving Award presentations honor the service of our first responders. Many of these activities can continue to be conducted outside.
We give a special thanks to past President, Howard Fisk, for his leadership and efforts this past year to keep our organization moving ahead in this most trying of times.
This year, 2021, what we will do to continue moving Missouri SAR ahead can be summed in three words: Unity of Purpose. For Compatriots, components of our organization's purpose are to maintain and extend the institutions of American Freedom; appreciation for true Patriots; respect for our National symbols; the value of American Citizenship; and unifying force of 'e pluribus unum' that created, from people of many nations, one Nation and one People.
Sons of the American Revolution goals are Patriotic, Historic, and Educational. To help reach these goals this year, we shall work together to achieve four objectives:
• Increase participation in our youth programs.
• Enhance Educational Outreach to schools across the State.
• Increase our recruitment and retention efforts.
• Increase the number of Flag Awards presented to members of our communities.
To reach our mission and achieve these goals and objectives this year, we shall adopt a hybrid approach to adapt to changing COVID-19 Virus conditions. A combination of in-person and virtual meetings and presentations will insure we as an Organization continue to move forward.
In five years, we celebrate the 250th Anniversary of the American Revolution. The American 250th SAR Committee helps and encourages internationally focused SAR Societies to plan special events. They work with other SAR committees to coordinate the celebration of the 250th Anniversary of The American Revolution. I encourage each Missouri Chapter of SAR to become involved in this historical patriotic endeavor.
This year, 2021, is the State of Missouri's Bicentennial year. First Governor of Missouri, Alexander McNair, would be proud of how far our Country and State have come in 200 years. We can dream what the future will be like in the next 200 years. Dreaming and planning go hand-in-hand. It is through planning that dreams come true. For the Missouri SAR, let us dream, plan, and continue to achieve success in our endeavors in 2021.

Click this Logo to read Missouri-specifc news about the NSSAR 250th Anniversary Recognition Program, then to get the form
CLICK HERE