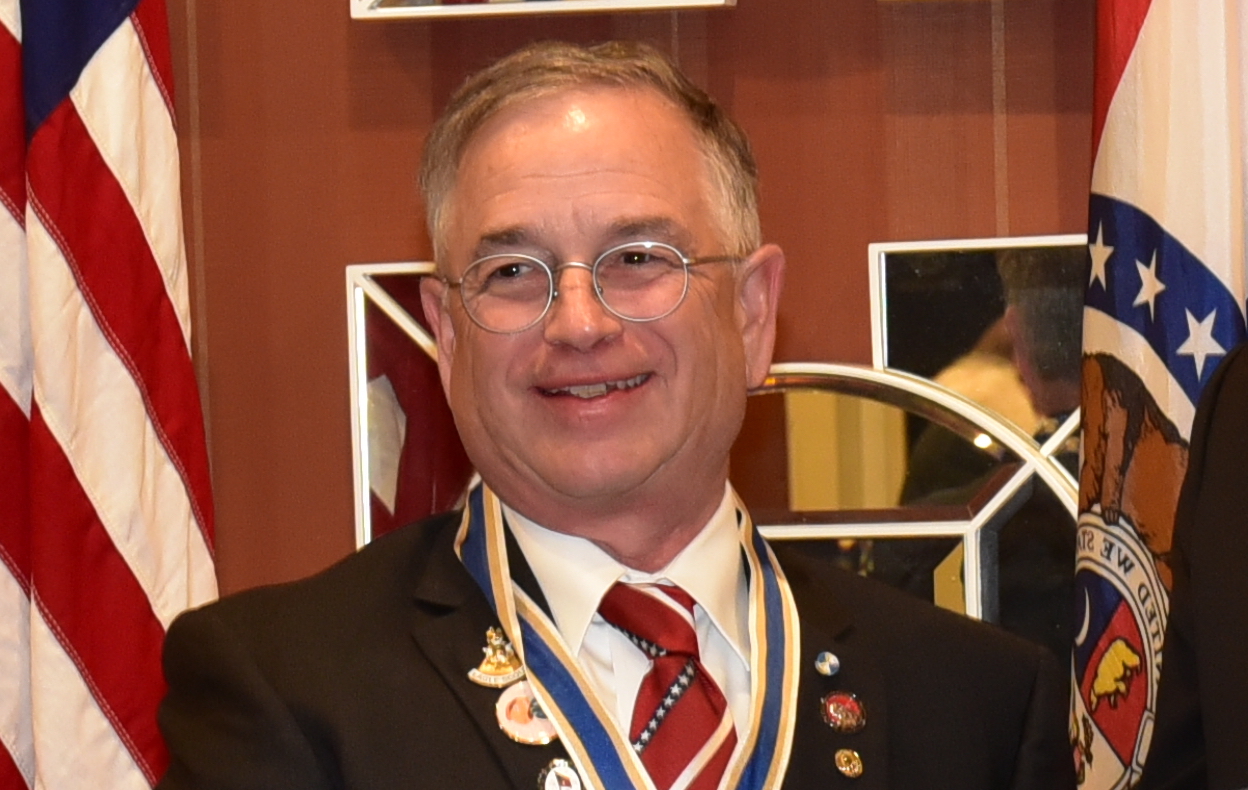 President J. Michael Robertson
Greetings,
Compatriots, I am very humbled that you have elected me
to serve as our State President.
During the past couple of years, we each have faced trying times. Yet, we persevered. We followed in the footsteps of our Patriot Ancestors by overcoming the challenges of our time.
I'm proud of how we made it through the past couple of years and I'm excited to refocus on our goals of promoting Historic Preservation, Education and Patriotism.
Thank you, President Swales, for keeping us connected, helping us find opportunities and leading us forward to reach our goals.
During my term as State President, may we continue to follow your lead and strive to increase our participation in youth programs, enhance educational outreach to schools across the State, be a presence in our communities and focus on recruitment and retention of SAR members.
We are directly connected by our DNA to the history of the American Revolution and the founding of our country. The America 250 Commission encourages all Americans to participate and celebrate the 250th anniversary of the founding of the United States. One way that our Missouri 250th Committee is promoting this once in a lifetime event is through its Broadside program. A Broadside is a large sheet of paper printed on one side only.
Historically, broadsides were used as posters, announcing events or proclamations. We are taking a page from our Founding Father's book and using Broadsides to tell the life stories of people and historical events that happened 250 years ago.
Please plan to have your Chapter members take Broadsides and distribute them in your communities. Engage with the public to talk about the people and events when our nation was founded. We also encourage you to partner and work with DAR and CAR chapters in your area during this time of celebration.
SAR strives to honor, respect and support the sacrifices of our veterans and Patriot ancestors. What better way to do that than to become a member in the Color Guard? As a member of the Color Guard, you are widely recognized, and you spark an interest in the Sons of The American Revolution.
National continues to challenge us to increase membership. The State has set up an Ad Hoc Genealogical committee to speed up sending in applications to Headquarters. Also on the State level, we have recently developed a monitoring system which allows Chapter Presidents and Registrars the ability to follow and monitor the status of an application.
Unfortunately, in the last 5 out of 6 years, we saw more members dropped than we took in. We have an opportunity to reverse this trend. Compatriots, I encourage you to be responsive if you see a member not showing up at meetings. Keeping in touch with members is key to retention.
Additionally, get new members involved! Find out their interests and why they joined SAR? Give out the New Member Orientation Book and assign new members a mentor. Keeping new members engaged in the chapter, will keep members in your chapter.
Being a presence in the community will attract members to SAR. Give out flag certificates, be in parades, attend CAR and DAR events when invited. One of our best resources for finding new members is through fostering and maintaining good relationships with the DAR and CAR.
When a DAR member gives you the name of a prospective member and she works to complete a SAR application for your chapter, makes sure a DAR Finder form is completed and submit it with the application. It's a win-win situation…SAR gains a new member and after the approval of 3 new applications, the DAR member is eligible for the Martha Washington medal.
Let's continue to support our Missouri State and Chapter Auxiliaries. Thank you, Dr. Anita Philbrick for serving as State Auxiliary President the past two years. The Auxiliary continues to support and assist us in our mission and goals, and we sincerely appreciate your hard work and support.
In conclusion, I am going to present each member of the Missouri Society with a challenge coin. With this coin, I challenge and encourage you to find a program in our organization which appeals to you and promote it. Let us "carpe diem" … seize the day and tell the history of our Great Nation.

Click this Logo to read Missouri-specifc news about the NSSAR 250th Anniversary Recognition Program, then to get the form
CLICK HERE